The Center for Equitable Family STEM Learning at TERC is a group of researchers, educators, and community advocates dedicated to collaborating with families and community organizations to understand the unique ways that families engage with science, technology, engineering, and mathematics (STEM) outside of school. The team also aspires to elevate the voices and perspectives of families in STEM education research and develop programs and collaboration models that help transform systemic inequities for families.
In the interview below, Center Co-Directors Scott Pattison and Smirla Ramos Montañez discuss how the Center started and their expectations for the future.
---
How did the Center for Equitable Family STEM Learning come about, or how did it originate?
Scott Pattison: It came together pretty organically. We were looking at our work over the years, and we realized that this thread of families was something that kept coming up over and over again—something we wanted to be central to all the work that we're doing. And we wanted it connected to equity. We believe that focusing on families is not just a side conversation but it's actually critical for addressing equity challenges in education. And that's something that we can uniquely offer to the field based on our experiences. Working so closely with families over the years has enabled us to have a coherence and a sustainability across our work.
Smirla Ramos Montañez: It emerged from years of working together and thinking about what we really care about and what we want to do. We can really elevate the voices of families, which a lot of times remain hidden in research. The information that gets shared through research often puts a deficit-based narrative on the roles of families and children. And so for us, it's become an opportunity to be at the forefront of what families care about, what they're saying, what they want, and what their goals and values are.
It feels like we've been on this journey of thinking about equity for many years. We want to think beyond the access. What does it really mean to address equity through research? What do we want our methods to be? How do we want to work with families and partners? In some ways it just seems like a natural evolution of some of the ideas that we've had, and the opportunities to create a body of work that can connect those ideas and hopefully advance equity through our work with families.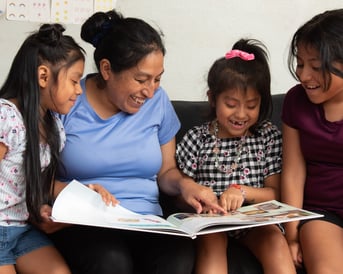 You both use the term 'years working together' — how long have you been working together? When did this body of work start?
Smirla: Well, in another life, we were both in the science center world. I remember being pregnant with my daughter, who is going to turn 9 this summer. That's when I came to the Oregon Museum of Science and Industry (OMSI). Scott had been there for a long time before that. We worked together while we were at OMSI, and then after we both left that space, we managed to keep in touch. When Scott came to TERC, I had the opportunity to come and work with him.
Scott: I feel like when we met, we knew that we were kindred spirits. We're both research nerds in many ways. We both have our PhDs, but in different fields. I think we both like that academic side, but we are also really focused on practice, the work on the ground, the partnerships with families—and a deep commitment to equity. And then we're both parents. We've got this focus that has created a really nice connection between us for moving the work forward.
Smirla: We knew that we wanted to think about bilingual work and serving families that speak Spanish. And so, we were able to bring that together and leverage learning Spanish and working bilingually. I identify with that community. I feel like that's been really productive and a source of connection in many ways with community partners. We have hopes to continue to add more languages, even though we may not have those capacities right now. But we're working on that. It's been nice to think about how we can serve different communities.
How did you end up coming to TERC? What brought you here ultimately?
Scott: When we were working at OMSI, we had a large grant to develop a math-focused traveling exhibition. Andee Rubin at TERC was the math education expert on the project, along with Jan Mokros. Working with them, I was interested in TERC because it seemed like this flexible, intellectual space where people were thinking deeply about things. It also had the flexibility to not just be tied to the museum context, which is a powerful learning context, but only one of the many domains in which families learn. We were interested in TERC, and we talked with Andee at the time, and just built that relationship with her. And then once I left OMSI and was working for another nonprofit, we kept up the conversations and eventually found a way to make the move. I do feel like TERC has created a really flexible space where we can carve out this vision. It's the ultimate flexibility to be able to respond to community need.
Smirla: I loved my time working in science centers, but there were many constraints. At TERC, there are more opportunities to be able to say, this is what I care about, and if you put in the time and effort, you're able to grow it with support.
What are some examples of the types of projects you're working on now?
Scott: One of the big flagship projects that we've worked on almost since the start is the Head Start on Engineering project, which is in partnership with Mount Hood Community College Head Start, the University of Notre Dame, and OMSI. At the beginning, the project focused on engineering education with preschool-aged children and families. But I feel like the evolution of that project has been in parallel with the evolution of our thinking and our goals for the Center.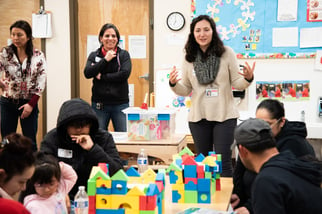 In the beginning, it was more of a traditional project where we were saying we would bring quality engineering education experiences to historically marginalized communities—to low-income English- and Spanish-speaking communities. And now it's become a family educator-researcher partnership where we're learning from each other about what engineering education learning can look like. We're learning as much from families as hopefully they're learning from us. And we're leveraging the project to transform the relationships that researchers, educators, and families have together to think about those relationships differently with equity goals in mind.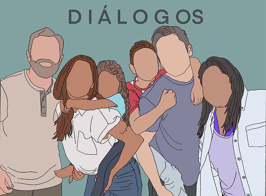 Smirla: Yes, I feel like it's a big turn. When we were able to get some of the internal funding at TERC to do the Engineering for Equity project, which helped us think more about how we were looking at engineering and how we were thinking about equity. And this spun into a series of new projects where we were able to take the things that we've learned there and apply them to our new proposals. We have one that's called Diálogos and now have a new one, Viviendo Matemática.
For those projects, based on our equity priorities, we are figuring out how we work together—not only within our research groups but also with families, collaborators, and community organizations. So, it's this new approach to thinking about how we can create those spaces to be able to do the research. Until now it's mostly been parents. But through Viviendo we're trying to expand and have the space to bring teachers, parents, and researchers together. In this case, we're focused on early math learning and how we can create a more equitable vision of math learning where family assets, goals, and values are prioritized in creating learning opportunities for all.
Scott: Thinking about the types of projects we're working on, almost all of them are some form of design research where we're doing both research and partnership work with communities. We're creating, building, and refining different types of programs and educational support systems.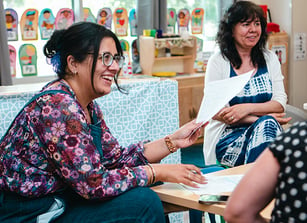 What is your approach to collaborating with families and partner organizations?
Smirla: We talk a lot about relational work. Sometimes this can be challenging for people, especially with the stereotypical perspective of what a researcher is. But it's just really connecting and bringing in that human side. Three words that often come up for us are accessible, comfortable, and rewarding. And so, we are really trying to think about how can we do that through our methods. And we're often asking for feedback, because we're open to changing things and learning along the way and understanding that it's a journey. I think that's really important to continuously reflect and then enact those changes so that it can continue to be a good collaboration.
Scott: Typically, researchers might talk about accessibility. We'll make sure it's in Spanish so that the Spanish speakers can take the survey. But that can still be quite an alienating, uncomfortable experience, let alone have any benefit for the participants. So, we're pushing ourselves to not only think about accessibility but really creating a space that's welcoming, comfortable, and inviting. And then asking ourselves, how are the research participants benefiting directly now and in the future from this work? Not just some kind of hypothetical, but really in the now.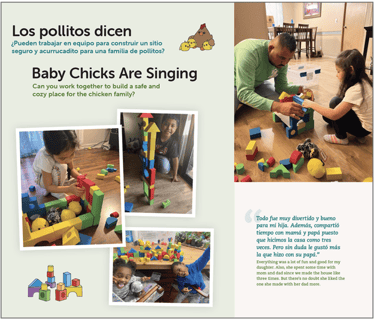 Smirla: Most families want to be able to help make things better. They're willing to share ideas about how can we continue to improve this for other families, and they feel like their feedback is being used or incorporated for the greater good.
Do you generally work with families short term? Do they see any of the results of their feedback if you're working with them for a longer period of time?
Scott: We've tried to create research structures that make that relationship longer. It doesn't always work out, and families are very busy, and life happens. But we see so many benefits on both sides. On the research side, the deeper the relationship we have with them, the more they're willing to share, the deeper the trust is, and the more we can understand about their lives and how STEM education is supporting them. And then, on their side, we can make changes to not only our methods, but the programs that we're working with that they see. And we hear from families, they know that we have listened.
Smirla: And I really appreciate that we heard that a lot, especially during COVID. Obviously that was crazy for everyone. Because we work with a smaller subset of community partners, often we're encountering the same families with different children in preschool. And so, they've been at the program for 6 years. And in one project they were with one child, and now in another project they're with another child. Or sometimes there are opportunities for them to participate in multiple programs. So, it's been interesting to hear their perspectives. They feel invested in supporting the work and sharing feedback, because they have had the opportunity to see what's come out of that participation.
What do you see as the most important thing in family STEM learning right now?
Smirla: I feel that it's been really important to highlight the assets that families have and work against the deficit-based narratives that are out there around families, children, and the learning that happens at home. It's critical that we continue to do the research to bring those to light, to elevate the voices of families, and showcase all the wonderful things that are already happening—all the great things that families are doing that relate to not only STEM but also general child development and learning. And the other one that I think is a little bit more challenging is thinking about the definition of STEM and broadening what gets seen or what counts. Recently, we've been focusing on engineering and what it means to be an engineer or do engineering. And that's been a powerful connection point with families. Because we present how all families engage with engineering because they solve problems. And that's something that's been really empowering. And so just thinking about how we are defining STEM and how we can push against the stereotypes and boundaries that are there.
Scott: I agree. Also, we have identified a number of long-term research goals that continue to evolve and reflect the needs we see. There's still a lot of need to understand authentically what family learning looks like and how it's unique from other configurations of learning. Also, helping to advocate for the importance of family learning. And then designing and testing methods for supporting families that are unique from the traditional structures of school.
Finally, where do you see the Center in 5 years?
Scott: I think we would like to develop a body of research and a suite of resources and tools that other researchers and educators can use to start productively engaging with families and help to make some of this change around the country. I really value the close, deep community connections. I don't think we necessarily see ourselves as the people who are going to have programs in every corner of the country. But we do hope we're developing knowledge and resources that other communities can adapt to their own needs and goals.
One way we're doing that is for the first time we've articulated an asset-based Family Learning Framework. This is the culmination of work across many projects. Hopefully, in 5 years, that's matured a little bit more. It has some legs, it has some publications behind it, and it's a tool that will hopefully be useful and will help people orient to supporting families. Also, we never want to lose that sense of working deeply with families to understand their interactions, their lives, the moments they work with kids and with each other. But we're also trying to balance that with the work we do at a systems level and institutional level. So, I can see in 5 years, our body of work has a balance between that close, deep work to understand family learning and how we're helping to actually change systems and institutions to create better partnerships with and more equitable opportunities for those families.
Smirla: I would add, I just hope we can be part of a community of other researchers and practitioners that are thinking similarly. I hope we're able to build those connections with collaborators in projects and beyond. At TERC there are a lot of people that really care about doing equity work with families, with students, with teachers. And being able to find those points of connection and creating this community that we can talk about and reflect on the things that we're doing and how we're doing them would be really important.
Center Team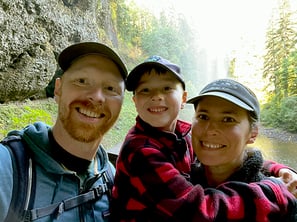 Scott Pattison

Viviana Lopez Burgos
Read more about the Center and its team and projects.
Recent Work
Our latest publication in Educational Research, "Family-Centered Research: Reflections From a Zoom-Based Recording Method of Families Learning Together at Home," aligns with the work of the Center. Based on our experiences during the global health pandemic, we reflect on the limitations that many existing studies put families in — situations that share little resemblance to what family learning looks like outside of school — and offer thoughts to motivate a new vision of family learning research. Among other things, the process revealed the power of allowing families to choose how and when they engage in learning experiences together and finding ways to capture more authentic family configurations beyond the parent-child dyad.