Reflections from Three TERC Scholars
The TERC Scholars Program provides college and graduate students with the opportunity to engage in meaningful STEM education research in a professional setting. Since its inception in 2017, the program has attracted a diverse set of students from a variety of backgrounds, majors, and interests. Each scholar is carefully matched with a mentor who helps them gain insight into the professional workplace and guides them in contributing to authentic research activities that advance project goals.
The following blog post excerpts give a glimpse into the unique experiences of three TERC Scholars — Akiko, Sophie, and Claire. Their reflections recount how the program has helped them to grow and develop professionally. Their stories are a testament to the power of mentorship and the impact of the TERC Scholars Program. Read on to learn more about their journeys and the lessons they have learned along the way.
---
VisTe's Impact Outside Classroom: Reflections of a TERC Scholar Intern
By Akiko Voelcker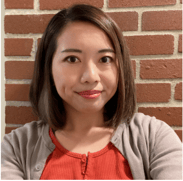 Akiko Voelcker, a student at the Bunker Hill Community College, is interested in business, microeconomics, and marketing, and aspires to become a marketing analyst. During her internship at TERC, she worked with the Visualize Teaching project, where she assisted with collecting, organizing, and cleaning data received from teacher participants.
Before becoming an intern at TERC, I did not have any research experience. After graduating from a vocational school in Tokyo, I worked in Japan for three years and attended an English language school. I wanted to travel and experience life abroad to explore different career options. I moved to Massachusetts, where I attended Bunker Hill Community College (BHCC) and earned a qualification in early childhood education, then started working at a Japanese daycare. As a student at BHCC, I joined the TERC Scholars Program through the BHCC Learn and Earn partnership.
The Challenge
The project I interned for was Visualize Teaching (VisTe), a National Science Foundation–funded project that provides professional development to middle school teachers and coaches to improve mathematics education in middle schools. In my role I supported the research data analysis by cleaning and refining transcripts from classroom videos. Although a professional transcriber does the first pass from an audio file, my job was to watch the full video recording and include detailed information, such as which students spoke and which students interacted with the teacher. I created a more complete record that will be much more useful for quantitative analysis.
English is a second language for me, so this role was challenging. Middle school students talk very fast, use slang, and don't always speak clearly. I needed to replay the audio many times when I started. It was also hard to hear some prepositions like "a" or "the" because these words do not exist in Japanese. Another challenge I encountered was understanding the math vocabulary the students and teachers used. Although I studied statistics at a community college, I had never studied mathematics in the United States, so I did not know many mathematics terms.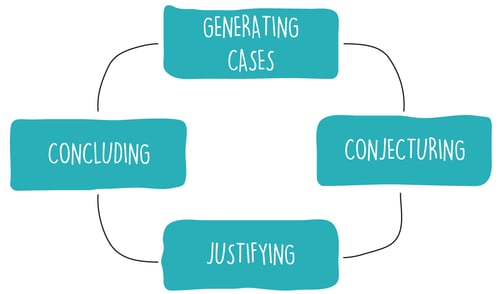 VisTe Argumentation Model
'Argumentation' Has a Place in the Classroom
What I noticed while working on the transcripts is how important math 'argumentation' is in American classrooms. I had only taken math classes in Japan, so valuing 'argumentation' was very new and interesting to see in these American classrooms. In my experience as a student in Japan, we see that there is a math problem in the textbook, the teacher explains how to solve it, the practice problem in the textbook is given as homework, and the answer is reviewed in the next class.
On the other hand, from what I saw, American math education is different. From watching the classroom videos, I noticed how groups of two or three students work on a single problem. Each group then summarizes their ideas and presents them to the class. If an incorrect answer is shared, the teacher often asks for a classroom discussion of the incorrect answer.
In participating as an intern for the Visualize Teaching project, I learned the importance of having your own opinion, and, in this case, participating in math argumentation. By encouraging this skill at a young age, children will be able to listen to others' opinions and be able to respond based on their own understanding of various ideas. Math argumentation does not need to be limited to the math classroom, but its use can expand to other disciplines and other real-world situations.
---
From Miss Delaware to iSWOOP Research Associate Intern
Before Sophie Phillips left TERC, she was interviewed by her mentor, Martha Merson, to discuss her experience as an intern with iSWOOP (Interpreters and Scientists Working On Our Parks). Here is an excerpt of their conversation.
After being crowned Miss Delaware 2021, Sophie Phillips came to TERC as a graduate student in Energy and Environmental Policy at the University of Delaware. With an extensive background in wildlife studies and environmental field work, Sophie ran a successful electoral campaign in November 2022 and was elected to Delaware's 18th District in state government.
Sophie, you left a banquet hall as Miss Delaware and went to the Chihuahuan desert in July. What were your impressions?
When I first got there, I was completely blown away by the landscape. It had been several years since I had been to a desert, and I had never seen Carlsbad Caverns National Park before. That night, I got to see the bat flight event for the first time. It is very hard to explain the feeling you get when you watch an entire cave full of bats all emerge at one time. It was fascinating and beautiful, and I felt so lucky.
Did iSWOOP offer you the chance to work with new technologies?
I used a thermal camera for the first time, which was honestly my favorite part of the whole experience. We used the camera to take population counts of bats emerging from the main cave. I also collected data in the gas and oil fields using these small devices known as "audio moths." They record the soundscape and then you can listen in. If you have the right software, you can create visual files from the data and analyze the volume and frequency of the different sounds.
Explain a bit more about the research underway and how you contributed.
The park is surrounded by oil rigs and gas drilling operations. This means that light and noise from human activity have utterly transformed the desert at night, and bats—with their keen hearing and sight—have had to deal with these changes during their hunting and feeding times. Researchers like Louise Allen and Nick Hristov have set up studies of compressor sites in the gas and oil fields around the park to examine the effects on bats. Several years of data are needed to know if the compressors are really affecting bats' ability to hunt or if the lights attract insects and make it easier for bats to catch moths. Early results of iSWOOP researchers' studies show that certain bats are negatively affected by the noises coming from the gas and oil sites.
Sophie collecting data in the gas and oil fields using an audio moth to record the soundscape.
Have you had any 'ah-ha' moments while working with iSWOOP?
My biggest 'ah-ha' moment came when visitors approached me while I was using the thermal camera. Visitors from all over the country were asking me about bat biology and behavior and about the work I was doing. I realized how much I truly love talking about science. I always hoped while I was out with the camera getting data that visitors would come up to me and ask questions.
What is one takeaway from your time as an iSWOOP research associate?
iSWOOP holds high standards for science communication. I have to be able to not only talk to the public about science but make it memorable. iSWOOP has taught me how to be creative. I try to have the public use all five senses because that helps them remember what they learned long after they have gone back home. Getting them involved by having them answer questions helps them remember their time with you as well.
How can people follow you/your work?
With iSWOOP leaders and scientists, I have co-authored two journal articles for kids with iSWOOP for Frontier for Young Minds entitled: "Indicator Species Reveal Environmental Health" and "Millions of Monarch Butterflies and the Quest to Count Them." The first of these focuses on frogs, which are outstanding indicator species in the Indiana Dunes and elsewhere. The second features monarch butterflies and new technology being used to count them as they overwinter in Mexico.
---
TERC Intern Perspective: A Mentor Found
By Claire Shapiro
Claire, a student at Middlebury College, is passionate about education equity, diversifying STEM, and working towards more pluralistic, inclusive education models. During her internship at TERC, she worked with Jodi Asbell-Clarke and Ibrahim Dahlstrom- Hakki, supporting the work of the INFACT and EdGE (Educational Gaming Environments) groups to promote inclusive models of teaching computational thinking to elementary and middle school students.
Finding myself at TERC this past summer felt largely serendipitous. I had originally planned to work for a Bostonarea venture capital firm. That appealed to me in some respects, but I kept questioning if that was how I wanted to spend my time. A reflective conversation with a family friend, Jennifer Dorsen of ScienceQuest, about an independent course I'd done in high school on American public education inequality, helped me tune back into my interest in education research. Jennifer helped connect me with several education researchers who specialized in diversity in higher STEM. I soon found myself on a Zoom call with Dr. Maria Ong, a field leader and long-time TERC researcher. She gave me the advice to reach out to anyone in the field whose work interested me. I remain grateful for her many insights and for this simple but powerful directive.
I feel immensely lucky to have ended up with a mentor like Dr. Asbell-Clarke, who immediately encouraged me to just call her "Jodi." Jodi took me seriously from day one, despite my relative youth and inexperience, delegating a literature review for her book and asking me to read the manuscript. To have her solicit my genuine input (and criticism) so early on was an empowering way to begin the summer.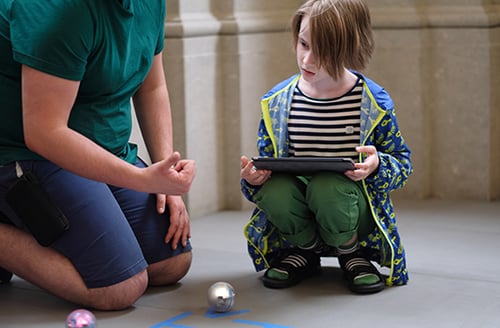 I continued to do some literature review work and also began to assist Dr. Ibrahim Dahlstrom-Hakki with data-analysis tasks. A round of data had come back from students using learning assessments to measure their Computational Thinking (CT) practices in a study of INFACT (Including Neurodiversity in Foundational and Applied CT.) We set forth to assess internal consistency and figure out if performance was related to any marker of neurodivergence.
While I am still uncertain what my path after Middlebury College will look like, it is encouraging to know that I will carry the skills I developed and the relationships I built at TERC with me for the rest of my career. Looking back on my summer at TERC, I think of improving programming in R, developing literature review and other research skills, learning how grant application processes work, navigating the world of book publication, and soaking in the complex process of trying to create curricula that will benefit as many learners as possible. I also think of simple but crucial workplace learning, like how to organize and accomplish 40 hours of work efficiently, how to build meaningful work relationships that balance the personal with the professional, or how to ask for support. Lastly, I think of an enthusiastic, intelligent, dedicated group of coworkers who welcomed me with such kindness and genuine excitement.
---
About the TERC Scholars Program
For up to 10 hours per week, each TERC Scholar becomes an active member of a project team and works under the supervision of the project's leaders to help advance project goals and gain STEM education knowledge. Scholars engage in authentic research activities, such as classroom data collection, literature syntheses, instrument testing, data coding and analysis, and case study development. TERC Scholars come from a variety of backgrounds and majors. Each scholar is assigned a mentor who assists them in navigating a professional workplace and guides them toward professional development opportunities. Visit www.terc.edu/work-with-us/internships/terc-scholars-program to learn more.
---
View the Spring 2023 Hands On! Magazine here.